Acknowledgement of Country
Widi Ngaruwa acknowledges all Aboriginal and Torres Strait Islander peoples as the First Peoples and custodians of the Lands, Seas and Nations that make up Australia.
We acknowledge the unbroken connection to Country and Culture and the resilience and survival of our people. Widi Ngaruwa pays special respect to the Wajarri and Nanda people – Robby's people – and to all the traditional owners on the lands and seas that we work upon.
Aboriginal and Torres Strait Islander peoples are advised that content on this website may contain images and voices of deceased persons.
WELCOME TO WIDI NGARUWA
Widi Ngaruwa is a Supply Nation Certified contractor; representing a majority owned, managed and controlled Aboriginal business.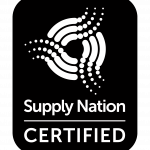 To provide long term Aboriginal job prospects and trade apprenticeships, as well as to offer our clients a practical and meaningful pathway for engaging Aboriginal Australians and small Aboriginal businesses.
As an Aboriginal business we recognise and value the cultural knowledge of our people as key to our operational capacity. We strive to build positive and meaningful relationships with people and communities wherever we operate. We will work with community, partners and clients to:
Respect the traditions and stories of the land and sea on which work.
Develop career pathways for local Aboriginal people that will lead to successful personal and professional development and promotional opportunities.
Support education and training initiatives for local Aboriginal people.
Prioritise the selection and engagement of Aboriginal employees and subcontractors.
Deliver Aboriginal excellence in service capability
Our triple certified Quality (ISO9001), Safety (ISO45001) and Environmental (ISO14001) Management Systems have been proven over thousands of projects in high risk environments, allowing us to continuously improve our practices and to build on our reputation as best-in-class. They are also supported by ISO31000 certified Risk Management Systems, as well as individual State and Territory Government accreditation or prequalification schemes.